Comprehensive Development Project (CODEP)
Agriculture Development | Fish Development
The Comprehensive Development Project (CODEP) in a rural mountain area in the Cormier and Upper Fond Boudin sections of the Léogâne commune is an ISLAND OF SUCCESS in Haiti! CODEP is a project nearing maturity with very high productivity and exceptional returns on invested social capital!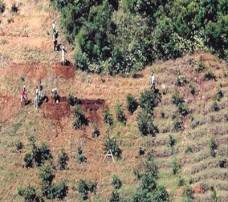 CODEP began in 1991 as the dream of John P. Hanna, a retired Senior Executive of General Electric, and Rodney Babe, a former Pennsylvania farmer who was serving as a PCUSA missionary in Haiti. From the start CODEP was in partnership with the impoverished residents in areas around the Comier watershed. The CODEP work groups began a long process using terraces and canals along the countryside to prevent erosion and followed it with plantings for reforestation.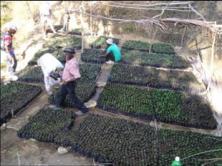 Leaves falling from the mostly eucalyptus (forest) trees soon began to provide ground cover and new top soil. Fruit trees were then planted along with gardens and small farms. Microcredit banking was established. Tilapia ponds were put in for commerce and as a protein source. Health initiatives were implemented. Community schools were expanded and improved. Nurseries were set up both for tree plantings and to provide fingerlings for the tilapia ponds. Cisterns were installed to provide homes with clean water and new hurricane resistant housing was constructed.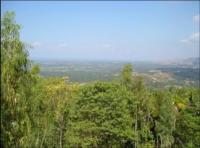 Rodney Babe started the project and was CODEP's successful Project Director and leader throughout the 1990's until 2005. Rick Land capably replaced Rodney in 2006. The transition from Rodney to Rick was remarkably smooth. CODEP management uses a unique incentive based compensation that rewards CODEP's partners based on progress and accomplishment. Click here to view the incentive based management system used by CODEP.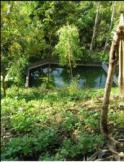 Over a relatively short span CODEP has shown remarkable achievements. CODEP has now expanded into two nearby watershed areas, Gro Mon and Bwa Gauche. CODEP's enviable production records show the following accomplishments: construction of over 150 miles of hedge rows and contour canals to prevent erosion, Over 4 million forest tree and almost 200 thousand fruit trees have been planted, excellent vegetable production has been achieved, 56 tilapia ponds, were established, over 200 cisterns have been installed, and over 20 new homes have been completed.




Students from the community school have shown excellent test scores compared to the other schools in Haiti. The Microcredit Bank is very effective, solvent and fully utilized. Economic output easily exceeds 6 times CODEP's invested costs!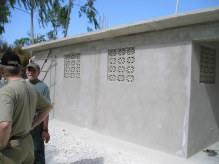 Reforestation projects in Haiti by others (mostly governmental and US Aid sponsored) have been absolute disasters. Remarkably, the CODEP success continues with about 90% of the plantings in tact. The value created by CODEP's $300 -$450,000 annual expenditures easily exceeds 5 times costs. SEF is an active supporter of CODEP through The Haiti Fund, a US based charity that provides funding for the project. SEF's Founders are also on the Board of Directors of The Haiti Fund.

TO MAKE A DIRECT DONATION TO CODEP
go to The Haiti Fund. Inc. website: www.haitifundinc.org